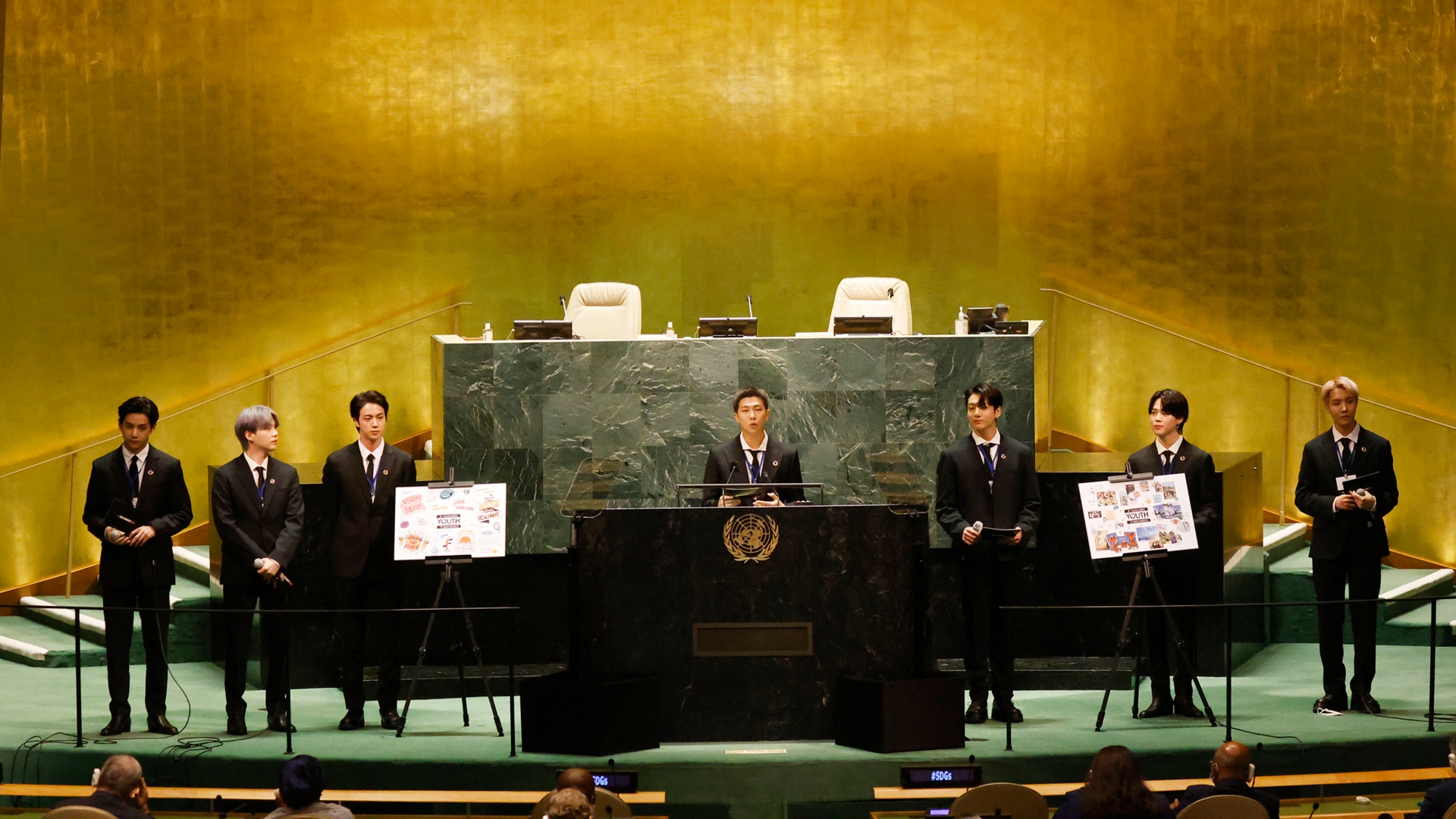 BTS came, they spoke and they conquered. A seven-member K-pop boy band spoke about climate change and sustainable development during the pandemic. BTS took over the UNGA with their strong thoughts. They also performed their current song "Permission To Dance" inside and outside the United Nations offices in New York. The band's seven members- Jimin, J-Hope, Jin, Suga, RM, Jungkook, and V- spoke about the future generation's possibilities. Also, the youth's capacity to adapt to changing circumstances amid a raging coronavirus pandemic in a pre-recorded film.
"The teenagers and those in the Twenties are not a lost generation. They are a welcoming generation. They forge ahead with possibilities of better tomorrow," said the band as they spoke at the UN General Assembly hall. 
BTS takes over UNGA: Look at the performance
The band discussed the difficulties that the youth encountered as a result of the pandemic. Also, how upset they were to have to cancel their 'Map of Soul' tour owing to the virus.
A pre-recorded video of the seven singing and dancing within the General Assembly was shown shortly after. They took the crowd outdoors, first to the foyer and then to the streets directly outside the UN Headquarters. A few dancers joining in on the song, which was their latest to top the Billboard Top 100 charts.
Jimin, the lead singer of the band, stated that they were fully vaccinated. The band's concert before the United Nations General Assembly was their first outside of Korea; since the globe was facing lockdown due to the COVID-19 pandemic.
Special presidential envoy for future generations and culture
This year, South Korean President Moon Jae-in appointed BTS as his special envoy to the United Nations. Last Monday, they were named 'Special Presidential Envoy for Future Generations and Culture'. Also, certificates of appointment were presented to them.
This is their third appearance at the United Nations. RM, a band member, gave a poignant address at the 73rd United Nations General Assembly in 2018. Thereby, earning accolades from officials, the general public, and fans all across the world.
The band virtually attended the 75th Assembly. It took place last year and offered its message through a film that brought people comfort.