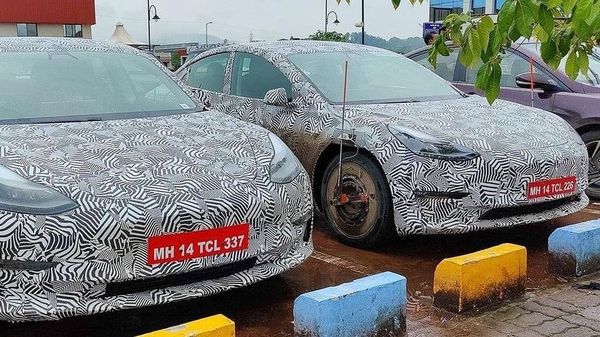 The Tesla Model 3 launch in India may appear soon. The California-based electric vehicle maker has been sighted testing the vehicle on Indian roads several times recently. At least, there are photos of two Tesla Model 3 cars in camouflage on the Mumbai-Pune Expressway this week with Maharashtra registration plates, according to the latest spy photos.
Tesla has yet to fully enter the Indian electric vehicle market, despite registering as Tesla India Motors in Karnataka. It is apparently in talks to open a research and development center in Bengaluru. Tesla is expecting to open its first factory in India in either Kerala or Maharashtra, according to sources.
According to recent sources, Tesla will launch its Model 3 electric car in India before the end of this year, making it the cheapest electric vehicle in the company's lineup. According to certain sources, Tesla will soon begin taking reservations for the car in India.
Tesla Model 3: Cheapest yet best-selling vehicle in the company's lineup
Tesla's admission into India now depends on the Indian government's response to the EV maker's proposal for lower import tariffs. Elon Musk, the CEO of Tesla, recently voiced his desire that India would lower import taxes on electric vehicles to help the company stay afloat. It sparked a debate among automakers, who looked to be split on whether or not to reduce taxes. Before deciding on a reduction in import charges, the Centre has urged Tesla to explain its strategy for local manufacture. But it has not excluded out doing so.
Tesla is scheduling to ship its vehicles to India as fully constructed units (CBUs). The Tesla Model 3 is likely to start at around 55 lakh rupees. With over 439,000 units sold last year, the Tesla Model 3 is the best-selling electric vehicle in the world.
The lithium-ion battery pack in this model has a capacity of 60kwh. It has a top speed of 260 kilometers per hour. Also, it can accelerate from 0 to 100 kilometers per hour in just over three seconds. On a single charge, the Model 3 has a range of roughly 500 kilometers. The Standard Range or Standard Range plus (RWD – Rear Wheel Drive), the Long Range, and the Long-Range performance (AWD – All Wheel Drive) are the three options.