Have you ever wondered why you face hair fall even though you take all the necessary precautions? Most of the time it's the weather, hair products, stress, or poor lifestyle but not only these, certain food items could also lead to hair loss. If you are someone who is facing heavy hair loss, look out for these 5 food items to avoid. 
5 food items to avoid if you are facing hairloss.
Sugar
Sugar – Yes, you read that one right. Consumption of excess sugar is as bad for your hair as for the body. Insulin resistance, which can lead to diabetes and obesity, can also cause hair loss or even balding in both men and women, according to research. It is also known that sugar can obstruct the absorption of protein which is necessary for hair growth. 
Alcohol
Alcohol – Did you know that alcohol is not only bad for your liver but your hair too? Just like sugar, alcohol too can hurt the synthesis of protein. Hair contains a protein called keratin and loss of it can make hair dull and brittle. 
Fish
Fish – Since climate change and overfishing have increased the concentration of methyl-mercury found in fish over the past few decades, fish is the most common source for mercury exposure. Though fishes are generally good for your health, high mercury fishes like swordfish, mackerel, sharks, and some varieties of tuna can do more harm than good. 
Junk food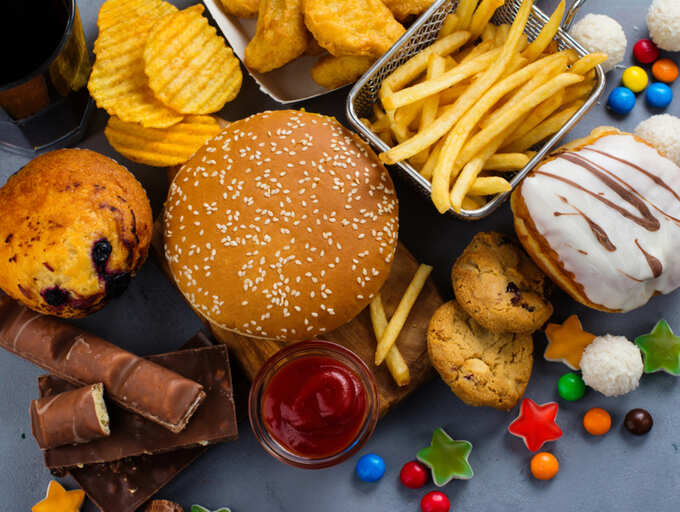 Junk food  – As obvious as it may sound, junk food is your body's biggest enemy. Eating too much oily and fried food will increase the level of DHT hormone which is related to alopecia.
Diet soda
Diet soda – Sugar, in general, is not good for the body, diet soda contains added sweeteners. Aspartame, the sweetener can damage hair follicles which can cause hair thinning.