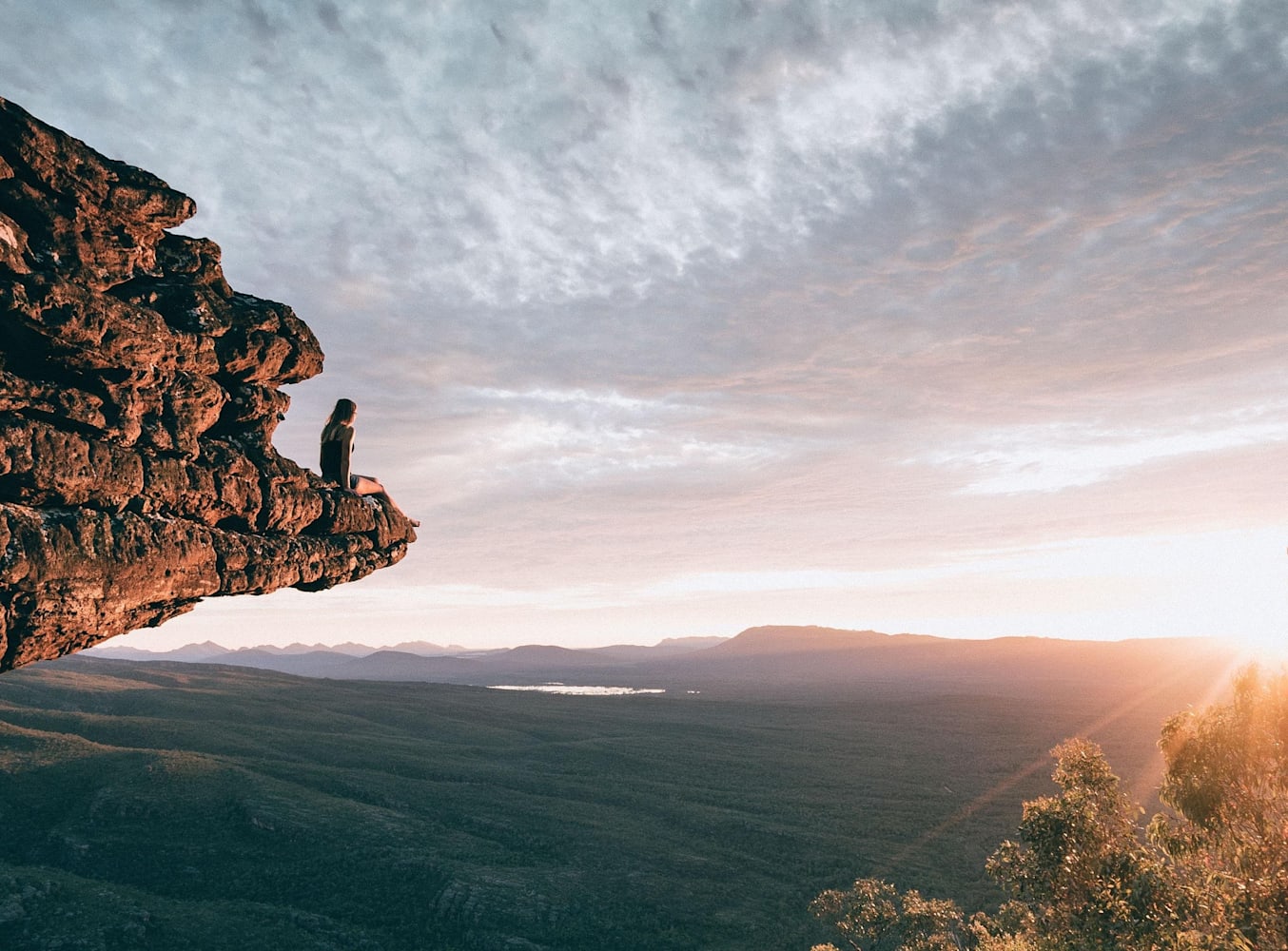 Are you the adventurous type? Do you spend your holidays and days off seeking anything to do that will make your heart race? If that's the case, you've probably already known that working from 9 to 5 isn't your ideal job. You want to be out there, living life and having adventures while still being compensated for it. Does it seem too good to be true? Actually, if you think "outside the box," many professions exist that allow you to not only go on adventures but also to bring other people along with you. Of course, not all of these adventurous jobs are without danger, but we believe that if you're looking for thrills and excitement, you're not concerned about that. We came up with a list of ten adventurous jobs that could take you on some wild, fun adventures.
Avoiding danger is no safer in the long run than outright exposure. Life is either a daring adventure or nothing.

― Helen Keller
A list of ten adventurous jobs
Wildland Firefighter
Wildfires are a major hazard to our national forests, costing US government agencies over a billion dollars each year. It's no surprise that wildland firefighting necessitates a large number of people, particularly during wildfire season when woods are dry and ready to burn. These seasonal occupations put you right in the middle of the action, battling flames and assisting in their prevention.
You must be physically fit for this profession in addition to having specific firefighting training. In this profession, you can work in a variety of positions. A forestry aide helps in fire prevention, bush thinning, digging ditches (to keep flames from spreading), and controlled burns. "Hotshot crews" are responsible for establishing fire control lines, suppressing ground fires, and implementing fire prevention methods.
One of the most dangerous firefighter positions is that of a smokejumper. Rather of working in one location, they usually go to specific fires. They are the first responders, jumping from planes into forest fires to battle them from the inside.
Marine Biologist
Marine biology is the study of the ocean's plant, animal, and microscopic life. Our marine life is affected by pollution and climate change, which has an impact on our ecosystem. A marine biologist investigates these developments and seeks to resolve issues. Consider this as one of the most essential and adventurous jobs because 80 percent of all life in the world is located underwater.
As a marine biologist, you may find yourself out at sea collecting samples and then spending hours in the lab compiling the results of your research. There are so many job paths in marine biology that there are chances for nearly anything. Building artificial reefs, planning marine reserves, charting a species' geographic range, researching the impact of pollution or chemicals on marine life – the skills are as diverse as the ocean itself. You can also work as an environmentalist or as a consultant in a research role, depending on your interests.
Adventure Guide
If you're searching for an adventure, this job description includes the word "adventure." Every day, an adventure guide gets to experience the thrill of adrenaline while also getting to introduce it to new individuals. There's definitely somewhere (typically a national park region) with an adventure component no matter where you reside.
To protect your and your client's safety, you must be an expert in your chosen activity and generally require a license. Tourists and adrenaline junkies may go kayaking, whitewater rafting, skydiving, horseback riding, zip-lining, scuba diving or snorkeling, fishing, and even shark diving with the help of adventure tour operators.
As you can see, the choices are nearly infinite depending on where you reside and your hobbies. You must be polite, informed, helpful, calm, and, most importantly, educated in first aid and emergency circumstances as an adventure guide.
Adventure Therapist
An adventure therapist is more akin to a psychotherapist with a dash of adventure guide thrown in for good measure. You'll discover that you're not just a physical but also an emotional guide. Troubled teenagers, those suffering from depression or post-traumatic stress disorder, people with developmental impairments, and those coping with addiction are all common targets for adventure therapy.
This form of treatment pushes people beyond their comfort zones while also instilling confidence and problem-solving abilities. Lower-risk activities such as ropes courses, rock climbing, camping, and white-water rafting are commonly in use in adventure therapy. Adventure therapy, according to psychologists, helps because it gets people "out of their minds" and into the moment – you can't complete a ropes course without getting out of your head.
Then, as the therapist, you sit down with the group and talk about it. Participants may use the confidence and awareness they gained on their journey to their everyday lives.
Park Ranger
Every day may offer a new adventure as a park ranger. Your responsibilities include maintaining the area where you work clean and safe, as well as ensuring that visitors have a safe and responsible experience. Park rangers are generally forestry and conservation students who work in public or private parks. Rangers have seasonal and emergency responsibilities in addition to their adventurous jobs
Park rangers assist in preserving woods to the greatest extent feasible while allowing people to enjoy them. You never know what you'll find in the woods, and you'll be outside for much of the day, so working as a park ranger may be thrilling. Park rangers assist in preserving woods to the greatest extent feasible while allowing people to enjoy them. You never know what you'll find in the woods, and you'll be outside for much of the day, so working as a park ranger may be thrilling. During your park inspections, you search for obstructed paths, possible hazards, and park laws to enforce.
Park rangers may also tidy up campsites and pathways. A park ranger must also be prepared in the event of an emergency. Forest fires, injured or violent animals, and human medical problems are all examples of this.
Alaskan Crab Fishing
It's one of the most physically demanding and adventurous jobs on the planet, and if you've ever watched the television show "Deadliest Catch," you'll know it's also one of the most dangerous. Crabbing is the most dangerous sport in Alaska, however, it has grown safer since the North Pacific Fishery Management Council and the State of Alaska enacted a "catch-share" system in 2006.
Crabbing boats no longer have only three days to complete their quota, allowing them to avoid rushing out during risky storms or working when tired. You may earn up to $50,000 each trip. But it needs the courage and desire to venture out on the ice-cold sea for three months at a stretch. Also, is willing to do arduous physical work.
Of course, there is a cost associated with this. With 700-pound (317.5-kilogram) traps, ice-coated decks, and the constant risk of capsizing, pulling up crab traps is perilous. However, the thrills and money may be quite appealing.
Travel Writer
Do you have a strong desire to travel and a good command of the written word? When you put them all together, you have the makings of a fantastic travel writer. As a travel writer, you can travel around the world or across the county, visiting specific locations and providing readers with detailed descriptions and evaluations. And you may do it all on the backs of others! You must be self-sufficient, brave, and inventive, and willing to take on any challenge.
However, don't expect to start working on paid assignments straight away. Typically, you'll need to develop your own portfolio and post your articles and photos online initially or try freelancing work with a local newspaper. If you can't afford to travel alone, become a tourist in your own town. Experiment with seeing your local area through the perspective of an outsider to improve your writing abilities. A travel writer's job is to share your love of travel and new experiences with others who have never been there.
ESL teacher
Teaching English as a second language (ESL) is a low-paying career. But it allows you to make a difference in people's lives while also immersing yourself in a new culture. Learning English is a road to a better-paying profession or career for many kids and adults in various nations. You generally travel and live for free in exchange for your teaching talents, learning, and enjoying a new way of life.
Working as an ESL teacher in another country used to be regarded less seriously than it is now. To reduce the number of instructors who decide the nation isn't for them and leave partway through the school year, several firms or institutions now require teachers to sign a contract with a deposit. On the other hand, teaching ESL may be highly gratifying for individuals who like teaching, traveling, and discovering new cultures.
Deep Sea Diver
Even while remote-controlled devices can already do a variety of deep-sea jobs, they cannot entirely replace human deep-sea divers. It is not for the faint of heart to venture into the unknown depths of the sea. Divers must be in great physical condition. Be able to stay calm in the face of danger, and have outstanding swimming abilities.
You'll also require certification in a variety of diving techniques, including closed bell, surface, and SCUBA. Depending on where they work, deep-sea divers undertake a wide range of tasks. Divers operate in a variety of sectors deep below. It includes offshore gas and oil pipelines, scientific study, filming or stunt work, forensic work for law enforcement, archaeology, civil engineering, or leading recreational dives.
In the case of offshore saturation diving, a deep-sea diver may spend up to 28 days in an underwater pressure chamber to acclimate to the super deep sea's water pressure.
Wildlife Photographer
Wildlife photographers create the most breathtaking images of the outdoors, giving us a glimpse into a world we may never see otherwise. Whether it's a forest, a jungle, a desert, or a plain, they place themselves and their cameras right in the thick of the action. Wildlife photographers traverse the world, documenting the habitats and lives of wild creatures for the rest of us.
It's one of the adventurous jobs that may go from peaceful to deadly in a matter of seconds. The majority of wildlife photographers are self-employed. You'll create a portfolio of pictures to sell them, or you'll be hired by magazines and sent to particular areas. In addition to great photographic abilities, wildlife photographers require a certain set of traits.
Outdoor survival skills, patience, quick reflexes, and the ability to move quietly and inconspicuously. As well as an understanding of animal behavior, all combine to produce a superb wildlife photographer.