No Time To Die is Daniel Craig's fifth and last adventure as James Bond. This edition of the British secret agent has a shorter backstory than the previous incarnation. His escapades are no less thrilling. Craig took over the role of James Bond in 2006's Casino Royale. Although falling short of Sean Connery and Roger Moore's seven films as 007, Craig maintains the record for being the longest-serving James Bond after 15 years. Meanwhile, Craig's 007 will face up against a new villain, Safin (Rami Malek), in No Time To Die. It will tie up loose ends from 2015's Spectre. Let's have a look at Daniel Craig's James Bond Recap.
Casino Royale was a total reboot of the James Bond film franchise. Hence, erasing the continuity that began with Sean Connery in 1961's Dr. No and ended with Pierce Brosnan's Die Another Day in 2002. The success of Paul Greengrass and Matt Damon's leaner and meaner Jason Bourne films inspired James Bond's producers to start over with the 21st Bond film, Casino Royale. It adapted Ian Fleming's first 007 novel. Screenwriters Neal Purvis, Robert Wade, and Paul Haggis depicted the origin story of a younger and more raw James Bond. He wasn't yet the indestructible gentleman spy fans knew from the previous films.
Daniel Craig's James Bond Recap
The enormous blockbuster Casino Royale was followed by the less successful Quantum of Solace in 2008. The role of 007 was subsequently taken over by writer-director Sam Mendes. He led 2012's Skyfall to a billion-dollar box office revenue while also reflecting on Bond's background in ways that not even Casino Royale did. After the critical and box financial success of Skyfall, Mendes returned with Spectre in 2015. It not only disappointed critics and audiences but also retconned all of Craig's previous films into a defined continuity, unified by the reboot of Bond's greatest foe, Ernst Stavro Blofeld (Christoph Waltz).
No Time To Die, directed by Cory Joji Fukunaga, rumors to be the final installment in Daniel Craig's James Bond tale. Thereby, giving 007 something he's never had in his two-dozen films: a clear finish. Craig's Bond films have a hazy timeline because they don't always 'happen' in the same year they were released in theaters. The long wait for No Time To Die, which was supposed to come out in 2020 before the COVID-19 pandemic, leaves the exact date of the film's 'present day' as an open question. Regardless, Craig's James Bond has aged over the years, and the 007 flicks, from Casino Royale to No Time To Die, use a serialized timeline.
Before Casino Royale: James Bond's New History
For Daniel Craig's James Bond Recap, let's start with Skyfall. It established that Daniel Craig's James Bond was orphaned by the time he was 12 years old, based on the history revealed in Ian Fleming's novels. Andrew Bond and Monique Delacroix, James' parents, died in a climbing accident. As retconned by Spectre, James resided in his family's Scotland lodge, Skyfall; before Hannes Oberhauser, an Austrian climbing and skiing instructor adopted him. Franz Oberhauser, James' foster brother, grew up resenting Bond's closeness to his father, and their hostility lasted into adulthood.
Franz assassinated his father and fled, rebranding himself as Ernst Stavro Blofeld using his mother's maiden name. Blofeld reappeared years later as the mysterious leader of the global criminal network known as Spectre. It employed a slew of James Bond foes over the years. Meanwhile, Bond's wartime service in the Royal Navy qualified him for the top-secret Double-0 section of MI6. In the pre-credits sequence of Casino Royale, Bond gained his license to murder by conducting two assassinations. Also, formally joining the British Secret Service as agent 007.
Casino Royale: Bond falls for Vesper Lynd & learns about quantum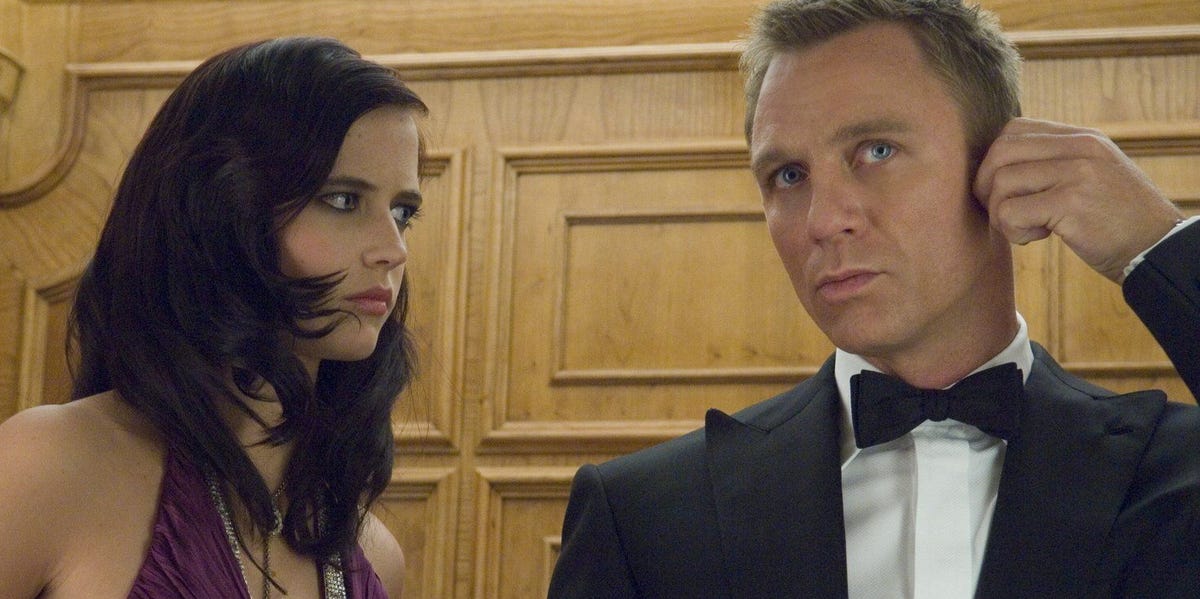 In Casino Royale, James Bond's main goal was to stop Le Chiffre (Mads Mikkelsen), a terrorist's private banker. Bond went to the Casino Royale in Montenegro to play a high-stakes game of poker. It is to learn more about Le Chiffre's operations while also murdering the villain. Vesper Lynd (Eva Green), a British Treasury employee, funded Bond's stake in the game. James also made friends with CIA operative Felix Leiter and a French spy named Mathis (Giancarlo Giannini) (Jeffrey Wright).
James fell in love with Lynd. But he soon discovered she was working for the same dark organization as Le Chiffre. Mr. White (Jesper Christensen) is a high-ranking operator for the same organization as Le Chiffre. He was the one who put him to death. James believed Vesper deceived him and never genuinely loved him, therefore she committed suicide. Bond, on the other hand, found Mr. White's phone number in Vesper's cellphone. When 007 paid a visit to Mr. White, he shot the villain in the leg and kidnapped him.
Quantum Of Solace wraped up Casino Royale's plot threads
Quantum of Solace picked up just after the events of Casino Royale. It is when James Bond and M (Judi Dench) discover that Mr. White's operation is far larger than they thought, including spies hidden within MI6. Bond follows a trail to Bolivia. Then, he meets Dominic Greene (Mathieu Amalric), an environmentalist who attempted to assassinate his ex-lover Camille Montes (Olga Kurylenko). He is scheming to destroy the Bolivian government.
Bond follows Dominic to an opera in Austria. There, he infiltrates a high-level gathering of Quantum, the global criminal network that employed Greene and Mr. White, before foiling Greene's plot. Before he and Camille leave Dominic to die in the Bolivian desert, Bond interrogates Greene about his employers. Bond also realizes what Vesper Lynd was up against in Quantum. He forgives her after tracking down and apprehending Vesper's previous boyfriend, Yusef Kabira (Simon Kassianides). Casino Royale and Quantum of Solace were two-part tales. It seemed to finish until Craig's 007 epics were retconned in Spectre.
Skyfall explored James Bond's origin and kills M (Judi Dench)
Years after Casino Royale/Quantum of Solace, Eve Moneypenny (Naomie Harris) unintentionally hits James Bond with friendly fire during a mission in Istanbul, and he is presumed dead. Bond survives and lives a life of alcoholic excess. It was before returning to action when Raoul Silva (Javier Bardem), a cyber-terrorist, attacks the United Kingdom and M in particular. Silva reveals to be a former Double-0 agent seeking vengeance on M. He must then justify her agency's conduct in front of British government scrutiny.
Bond apprehends Silva and brings him back to London, only for Silva to disclose that this was all part of his master plan. Following Silva's escape, 007 resolves to protect M personally by transporting her to Skyfall, his remote childhood home in Scotland. Bond repels Silva's assault on Skyfall with the help of Kincade. It was a part originally intended for Sean Connery but played by Albert Finney. But the villain kidnaps M and she is fatally injured. Bond assassinates Silva but is powerless to save M. The new M is Gareth Mallory (Ralph Fiennes). James Bond returns to full active duty with MI6. Thereby, bringing Skyfall's gentle reboot of Daniel Craig's 007 films to a close.
Spectre Retcons Quantum & Bond's history with Blofeld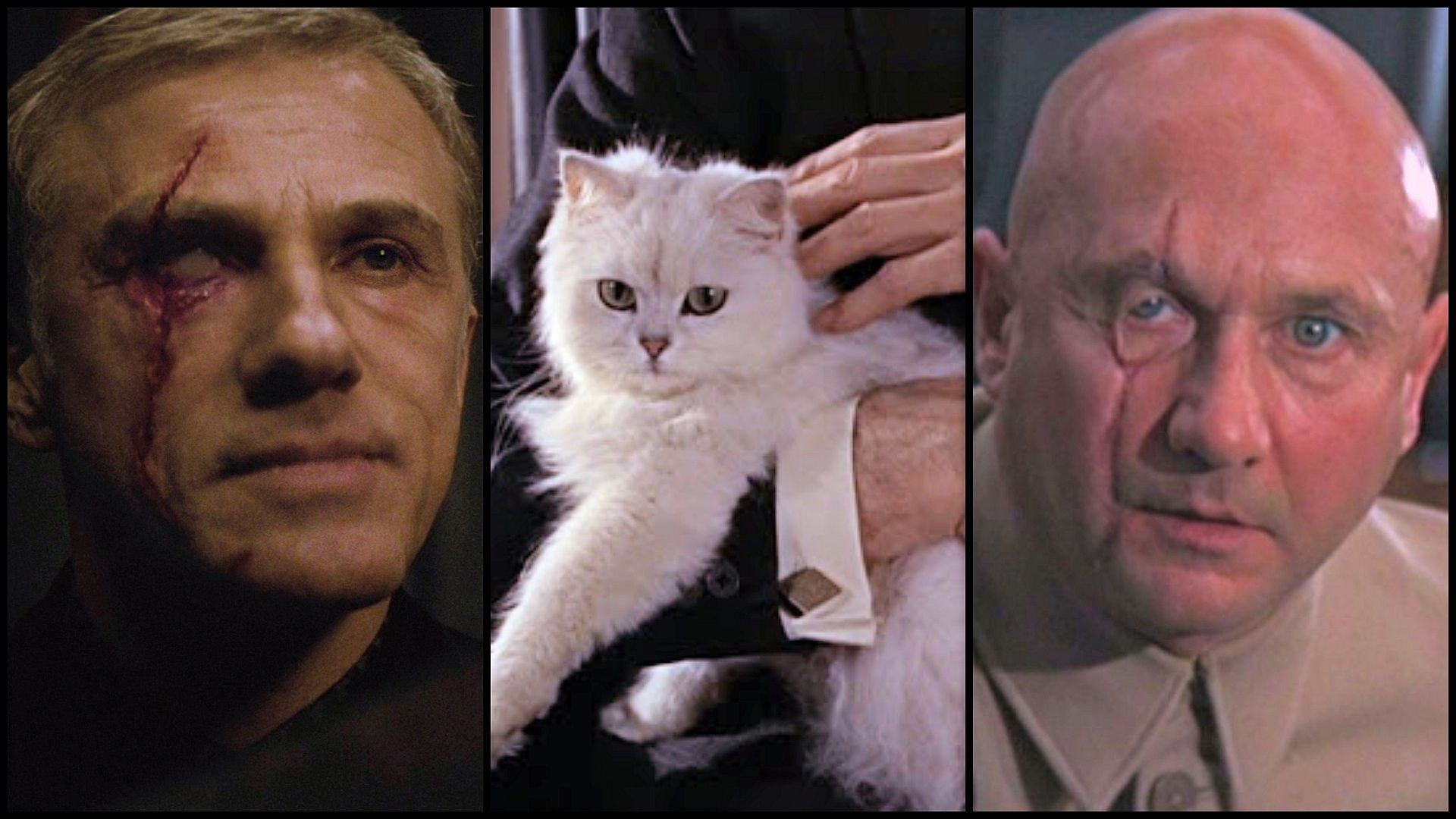 Spectre begins with James Bond on an unofficial trip to Mexico City, where he is pursuing an agenda left by the late M. As Bond hunts down Marco Sciarra (Alessandro Cremona), the new M faces off against Max Denbigh (Andrew Scott), who wants to shut down the Double-0 branch in favor of the Nine Eyes global monitoring network. In Rome, 007 infiltrates a top-secret Spectre meeting, which Franz Oberhauser, James' erstwhile foster brother, is overseeing. Despite Oberhauser's hitman, Mr. Hinx (Dave Bautista), Bond escapes Rome and meets Mr. White, who orders Bond to safeguard his daughter, Dr. Madeleine Swann (Lea Seydoux), before committing suicide due to Spectre's threat.
Bond and Madeleine follow a trail left by her father to Spectre's desert headquarters, where Oberhauser exposes himself to be Ernst Stavro Blofeld. Blofeld further assures Bond that he has been "the author of all of your pain" throughout his career and that Quantum and all of Bond's previous adversaries were all working for Spectre. Blofeld is also behind the Nine Eyes initiative, which would put Spectre in charge of all of the world's major spy agencies. After destroying Spectre's base, Bond escapes Blofeld's death trap and returns to London with Madeleine.
Blofeld abducts Madeline once more, and 007 survives yet another death trap before eventually apprehending Blofeld. After MI6 catches Blofeld, Bond quits as 007 and leaves the British Secret Service with Madeleine. Thus, opting not to punish his "brother". No Time To Die will bring Daniel Craig's James Bond saga to a close. This ends Daniel Craig's James Bond Recap. It remains to see what 007's ultimate fate will be.