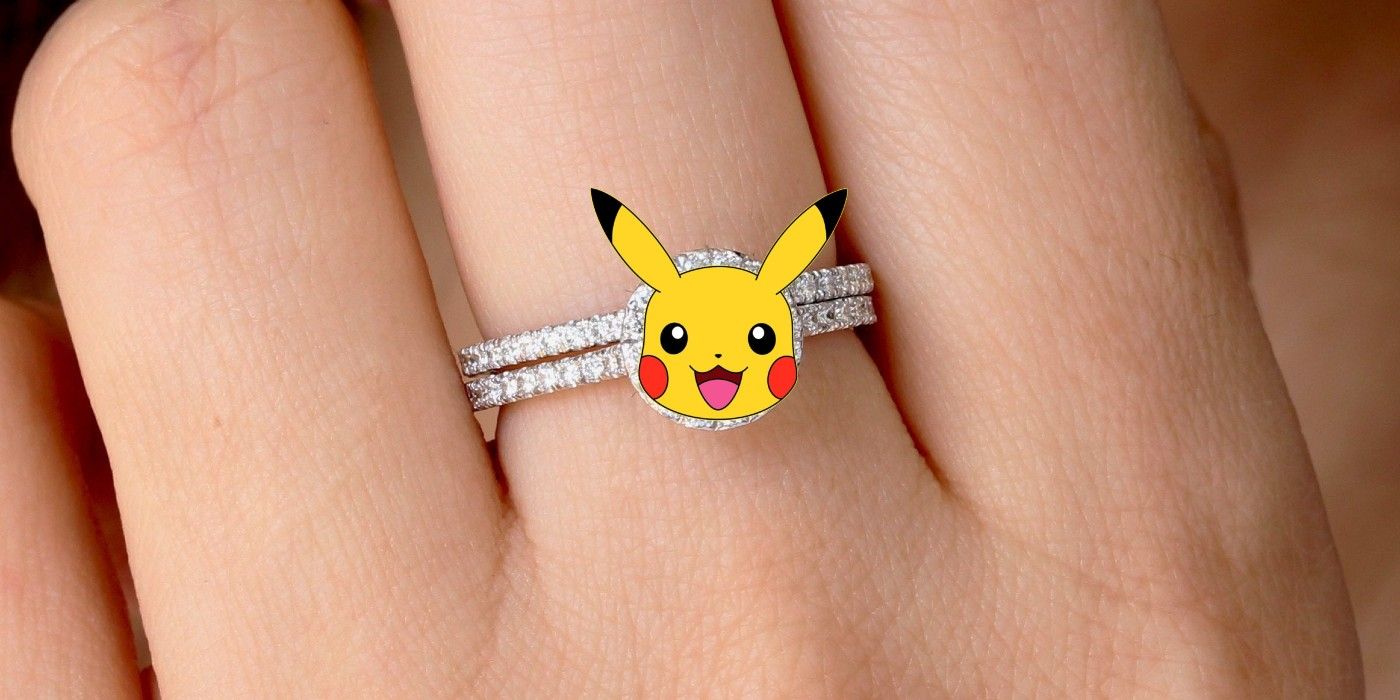 The new Pikachu engagement ring in U-Pokémon Treasure's line is more expensive than all 122 games put together. U-Treasure sells a range of Pokémon-themed rings, and Pikachu isn't the only one. They have a whole assortment of Mew, Eevee, Eevee Evolutions (Umbreon and Espeon), and Pikachu designs. U-Treasure also sells a wide range of well-made trendy products in addition to jewelry.
U-Treasure is a luxury jewelry and fashion label located in Japan. They make necklaces, rings, watches, and other high-end fashion accessories inspired by anime and video games. U-Treasure collaborates with a variety of popular franchises, including Kingdom Hearts, Okami, Monster Hunter, Evangelion, Sailor Moon, My Hero Academia, and many more. They even make jewelry based on Disney and Harry Potter characters.
Pikachu-themed rings abound at U-Treasure. But this engagement ring is modern in comparison to the rest of the collection. This wring's former design included two Pikachus, just like this one. This version, however, includes two gendered Pikachus, one male, and one female. The male Pikachu's tail is in the shape of a rectangle. The female Pikachu's tail is in the shape of a heart. The engagement ring comes with a personalized engraving option and is housed in a Master Ball shell that is both stylish and functional. In comparison to the previous edition, it also provides the opportunity for a larger diamond.
Pikachu engagement ring
This Pikachu ring is available for purchase globally, but it is an engagement ring, therefore it is pricey. The ring's price ranges from around 825 USD (93,500 JPY) to 1,106 USD (125,400 yen); however, this is only for the band, and the ring's final price is determined by the metal used. The platinum band, 18k yellow gold setting, and 1.032ct diamond are the most opulent engagement ring options. This adds up to around $10,320 in total (1,169,400 yen).
What's next when Lightning from Final Fantasy XIII models for Louis Vuitton and U-Treasure creates a $10,000 Pikachu engagement ring? As anime and video games become more popular, more themed clothes, jewelry, and other accessories begin to appear around well-known brands. The number of anime enthusiasts and gamers is growing. As geek culture grows, high-end brands will likely collaborate with companies to create more stunning fashion items. For the time being, this lovely collaboration has produced the ideal engagement ring for the Pokémon-obsessed pair.